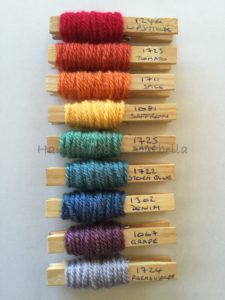 I made this blanket with the same Stylecraft colours  as the Rainbow Blankets but random instead of the traditional rainbow order. I used a 4mm hook. I have been asked for a pattern which I don't have because I designed it as I went along. So here is a basic outline of what I did. It's basically a granny square blanket.
I started by making 9 small 3 round granny squares in solid colours. (I do 2 chains in the corners but none between the clusters) After the first one I attached each square on the final row using the join as you go method. Attic 24 has a good tutorial here: http://attic24.typepad.com/weblog/joining-asyougo-sqaures.html
(Tip: after each round, turn your work over and do the next round on the opposite side. This stops the square twisting).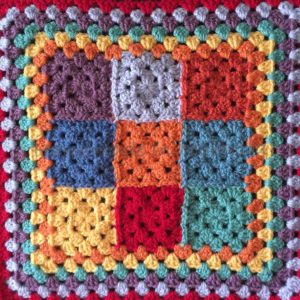 Then do 6 rounds of treble clusters as in a granny square. However on the first round, in order to keep the stitch count correct so future squares are lined up, you need to do the following: Where the small squares join, you have the 2 corner holes close together. You need one cluster in these 2 holes, not one in each. To do this I did one treble in the first hole, started the 2nd treble in the same hole (yarn round hook, insert in hole, yarn round hook, pull hook through hole, yarn round hook and pull through first 2 loops on hook, leaving 2 loops on hook) Then start a 3rd treble in the 2nd hole in the same way then yarn round hook and pull through all loops on hook to finish the treble. Finally make another treble in the 2nd hole. This makes one cluster across the 2 holes which is a little bit fatter than a normal cluster. Hopefully this is clear and you can see what I mean on the photo.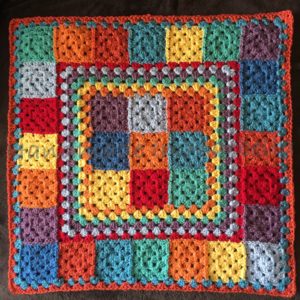 Then you can start making and adding small 3 round granny squares all around the big square.  You should have 24.
Next I did 12 rounds of treble clusters, another round of small granny squares and finished with 18 rounds of granny clusters. You can do any combination you like as long as the rounds of treble clusters are in multiples of 6 so that your next round of small grannies fits.
Feel free to use this pattern, all I ask is that you give me credit for the design. Tag me in your instagram photos. Any questions please ask in the comments below and I will do my best to answer them. I hope it is understandable but I am not a pattern writer.