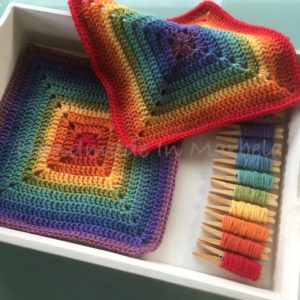 I made this blanket with Stylecraft Special DK in the following colours:
Lipstick
Tomato
Spice
Saffron
Meadow
Sage
Storm Blue
Denim
Violet
Grape
And white for the joining and borders. This blanket measures approx 60cm x 84cm. I used about 18g of each colour and about 75g of white.
The squares are solid grannies of 10 rounds each. Half I started with Lipstick and worked my way down the list of colours above. The other half I started with Grape and worked the list in the opposite direction.
Then I joined the squares using the continuous flat braid join. There is a good tutorial by Heather of The Patchwork Heart here.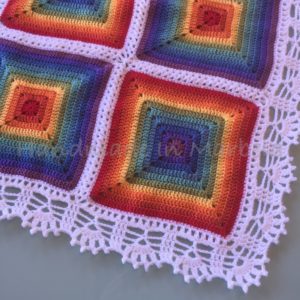 Then for the border I did Border #119 from Around the Corner Crochet Borders by Edie Eckman, first making a foundation of dc (uk terms), 2 in each loop and 5 in the corner loops. You will need to count to make sure you have the right number of stitches to start the border. I had to add one stitch on the short sides and miss one stitch on the long sides.